Win Free Art to Celebrate My New Site!
Great news! I have a new art gallery site! To celebrate, I'm giving away a 16" X 16" Print on Fine Art Paper of "ECHO CANYON " worth $99.00 ! To enter, fill in your email address below. Giveaway ends on May 10th, 2021.

I also have a special prize for EVERYONE who enters,
EVEN IF YOU DON'T WIN:
As soon as the giveaway ends,
I will give you a one-time discount to buy anything on my site at 20% OFF!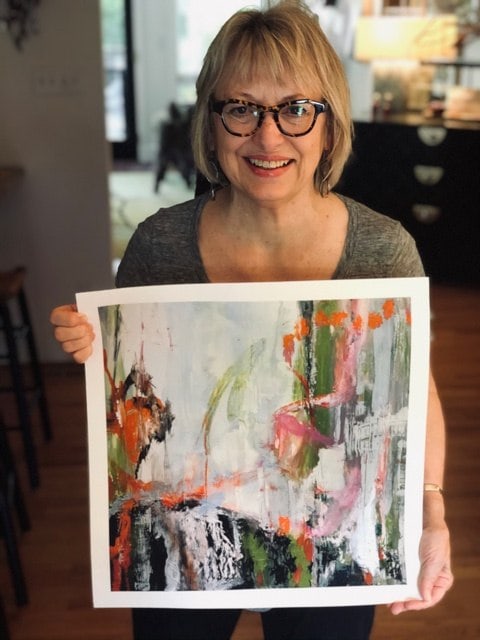 Winner residing outside of USA will be responsible for paying shipping costs.
To enter the giveaway, just fill out this form:
I'll follow up in an email to confirm your entry. If you don't see a confirmation email, check your spam folder.
Want to see more of my art?

Thank you for entering.
ECHO CANYON (The back story)
My passion for music is in my genes. The first steps into my studio each morning take me to my carefully collected playlists. I select the music for the day and as it begins, all becomes right with my world. I was in high school during the late 60's, when music was exploding across the USA & Europe. From the Beatles to Bob Dylan, I was enamored with it all. I still am. Recently I watched a documentary entitled ECHO IN THE CANYON. It was about the making of music in that era and the behind the scenes look. Musicians finding their way together. I was enchanted. I immediately downloaded the soundtrack. This artwork was inspired by that music, hence the title.
Echo in The Canyon is a 2018 film directed by Andrew Slater. The film is produced by Eric Barrett, and Andrew Slater under the banner of Mirror Films. The film stars Lou Adler, Fiona Apple, the Beach Boys, Beck, Tom Petty, Jackson Browne, Buffalo Springfield, the Byrds, Jade Castrinos, Eric Clapton, David Crosby, Jakob Dylan, Norah Jones, and Michelle Phillips